Serve better. Pastor better. Preach better.
Serve better.
Pastor better.
Preach better.
Raising up Ministry Apprentices
Paul did ministry. But he didn't just do ministry. He also trained others for ministry.
Paul took Timothy under his wing: encouraged him, guided him, instructed him, gave him experience and responsibility. Paul trained Timothy. And he encouraged Timothy to do ministry.
But Paul didn't just encourage Timothy to do ministry. He told Timothy to train others for ministry. He told him to entrust what he had learned to others: others who can pass it on to (yet more) others.
Raising up Ministry Apprentices in your Church is a chance to learn how to pass the baton well. To raise up a new generation of ministers for the gospel, and to multiply the work of the ministry across Canberra, Australia, and wherever God would call.
Are you a Paul, looking to pass on your experience? Or are you Timothy, eager to check out how to be trained? Either way, you are invited, not just to do ministry – but to train others for ministry. Ben Pfahlert from MTS will be sharing his wisdom on raising up apprentices and how to train them well.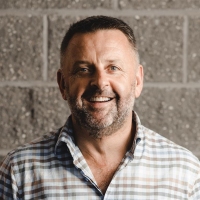 Ben believes MTS has a key role to play in evangelising Australia by partnering with churches to recruit and train people for ministry through the MTS strategy/movement. Ben got a 'taste' of ministry by doing an MTS apprenticeship over two years in 1992 before working as a Civil Engineer for three years. He studied theology at Moore Theological College in NSW (graduated 2000) before working in university ministry with AFES at RMIT University in Melbourne. While sharing the gospel with students and training 16 apprentices, Ben also took on coordination of the Victorian arm of MTS and pastored the evening congregation of Scots Church Melbourne. His own personal history with MTS and its proven track record makes leading the organisation a wonderful privilege for the MTS Director.
9:30am – 2:30pm
Morning tea and lunch included
Tickets: $30 per person
Southgate Christian Community,
33 Were Street, Calwell